The Amber Quarry is an
Amber
mining zone, located in
The Quarry
. The Amber Quarry, has a cannon that will bring
Kya
to
Brazul
's,
Fortress
. With the help from
Aton
, she ventures through the Quarry.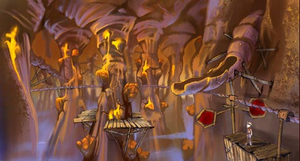 Aton leads the way for Kya to the Amber Quarry, upon arrival, she finds out that Aton has betrayed Kya. Aton tricks her, so that Brazul will not hurt the Nativs, and in return Brazul captures Kya. Unfortunately for Aton, Brazul double crosses both of them. Kya begins a duel with Brazul, however, he flees, and escapes. Kya heals herself with a conglomerate of Amber, which causes all of the Amber to start crashing from the ceiling. Brazul is willing to save Kya, if she forfeits The Medallion. Kya refuses with silence, and discovers another way out of the mines.
Ad blocker interference detected!
Wikia is a free-to-use site that makes money from advertising. We have a modified experience for viewers using ad blockers

Wikia is not accessible if you've made further modifications. Remove the custom ad blocker rule(s) and the page will load as expected.