Another World
is a dimension separate from the earth that
Kya: Dark Lineage
, takes place on. It's proper name is unknown, or may just be Another World.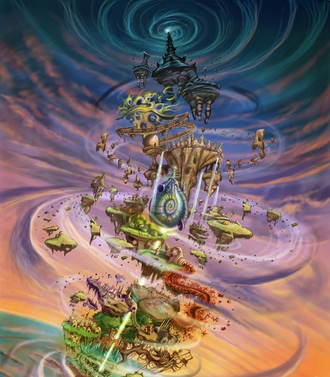 InformationEdit
Another World's geology is the essence of fantasy, with islands, lands, mountains, and entire forests that float. The world is connected by air shafts, which are at least partially intelligently-made if not wholly. The land shown in Kya: Dark Lineage, is that of Forests, Jungles, Mountains, Deserts, Quarries and Volcanic areas. Water, is rarely seen in the world (Usually only seen flying off of floating islands). There are also no snowy, and/or cold climates, seen in the world.
LocationsEdit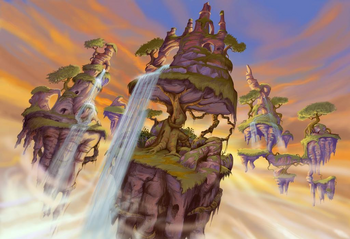 In total, there are nine separate locations, and two sub locations.
Wolfen Base - A few areas in the world contain Wolfen Bases, these places are filled with Wolfen, and can be very dangerous spots.
EnvironmentEdit
Natural, and man made objects in the environment, are listed here.
Special ItemsEdit
TransportationEdit
Elevator - Elevators appear in the beginning, or the end of a location. They allow Kya, to go to a completely new level.
Shell Elevator - Shell Elevators are wind tunnels that are connected throughout the entire world, they can bring Kya to any place in the game that she has unlocked. Nativ City, has a hub of Shell Elevators, that can bring her to any place she chooses. However, when in a specific area, she can only choose elevators in that location. In order to go to a completely different place, she must use a normal elevator, or go back to Nativ City to use the hub.
Many creatures roam the land, some are humanoids, while others are more like animals.
The Resident sapient beings of the planet and, prior to the Wolfen and Brazul's appearance, the only higher creature seen in the land. Notable Nativs include:
Bird - A bad mouthing bird, who enjoys sitting on Atea's staff, and making wise cracks.
Stuff - The last of a species known as Galbos, Stuff has the ability to allow others to communicate with each other through telepathy. Stuff also provides tips for Kya, when she comes across a troubling part.
The Second sapient beings, though technically, they aren't a true species. Wolfen are twisted Nativs, and rally being Brazul in his schemes. Wolfen come in a few forms:
Scrawny - Scrawny Wolfen are the weakest type of Wolfen, and tend to come in large packs.
Grunt - Grunt Wolfen are much stronger than Scrawny, but are not very smart creatures.
Kronos - Kronos Wolfen are the top tier Wolfen, they are agile, tough and intelligent.
Brazul's Bird - A mysterious bird owned by Brazul, it acts as a spy, and relays information to him.
Animals/MonstersEdit
Another World has animals in it similar to, but sometimes entirely different from the ones found on Earth. Some of these creatures are as follows:
OutsidersEdit
These are characters that are not originally from Another World, but currently reside in it when the story takes place.
Brazul - A man of mystery, he is Kya's father who disappeared from her world. He has now invaded this new world, and has been transforming Nativs into Wolfen for the sake of having henchmen to help him out with his plans.
Frank - Kya's younger half-brother, he initially finds the strange room that was created by Brazul, as well as the one who accidentally opens to portal. Upon arrival to the new world, he is kidnapped by a group of Wolfen.
Kya - The heroine of the game. After arriving in the Nativs world, she tasks herself to find her brother Frank, help out the Nativs, defeat her father Brazul, and learn how to get back to her world.
Unlike earth, magic exists in this world. The Nativs have some control over it, as demonstrated by Atea. The land itself is peppered in Amber. If a person has enough Mana bound to themselves, it allows one to heal injuries, open Shell Elevators, and exorcise Wolfen. Some animals, such as the Mana Creature can produce Mana from their bodies.
Mana - Magical orbs of energy that allow Kya to use magic.
Important magic abilities is as follows.
Awakening Power - A power that allows the user to cast exorcisms, heal injuries with Amber, unlock doors, and shell elevators.
Exorcism - Is an ability to free Wolfen from their curse, and turn them back to Nativs.
Regeneration - The ability for Kya to heal herself when near an Amber stone, with the use of Mana.
The only known currency of the land, is known as a Nooty. Nooties resemble that of a coin, and have a ball like object in the center. Nooties come in 1's, 5's and 10's, and are scattered all over the world. Some are found laying around, while others are hidden in crates, and are dropped by monsters.
Bombs - Explosives that Kya can buy, these weapons can injure Monsters, Wolfen, and destroy obstacles in the way. Some areas even have bomb dispensers.
Boomy - A boomerang like weapon that Kya can clip to her hair when not in use, they can defeat small monsters, cut ropes, hit targets and other obstacles.
Fighting Bracelet - Magical armlets that increase Kya's martial arts, abilities.
Ad blocker interference detected!
Wikia is a free-to-use site that makes money from advertising. We have a modified experience for viewers using ad blockers

Wikia is not accessible if you've made further modifications. Remove the custom ad blocker rule(s) and the page will load as expected.