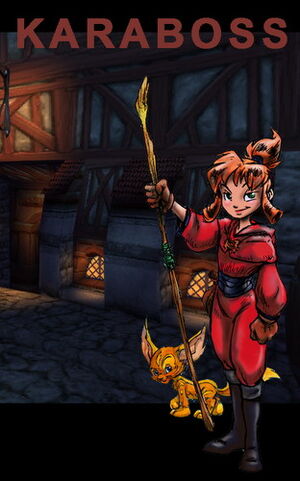 Karaboss is another version that eventually became Kya, Karaboss is a witch who would go on an amazing adventure in a halloween based world.
AppearanceEdit
Karaboss was a girl with orange hair, a ponytail and strands of hair to the side, similar to Kya's. She has a red bodysuit, with a hood, a belt and black boots. She has brown gloves and a stave type of weapon.
Kya's hair was most likely modeled after Karaboss, since they both have the strands on the side and the pony tail.
The animal, has pointy ears like Stuff, and probably was an early design of it.
ReferencesEdit
Ad blocker interference detected!
Wikia is a free-to-use site that makes money from advertising. We have a modified experience for viewers using ad blockers

Wikia is not accessible if you've made further modifications. Remove the custom ad blocker rule(s) and the page will load as expected.