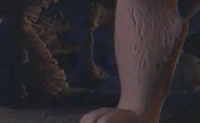 In the original video of Kya Dark Lineage, there is an unseen character whose leg appears in a climatic ending scene.
It is unknown if this was supposed to be a character that did make it in the final version, or if it was a cut character. However, the impact of this strange character, makes it known it is not an adversary to mess with!
The species of this character is unknown, as it does not match with any of the characters/animals or monsters that made it into the game.
This character could be an early design of the Woof, enemy.
Ad blocker interference detected!
Wikia is a free-to-use site that makes money from advertising. We have a modified experience for viewers using ad blockers

Wikia is not accessible if you've made further modifications. Remove the custom ad blocker rule(s) and the page will load as expected.