These are the promotional tactics that the Kya team used to advertise Kya: Dark Lineage.
PromotionalEdit
There are many different ways the team used in order to fullfill promotional and advertising needs, although it was seen as unsuccessful, they still made some attention.
Various MethodsEdit
The Advertising team used different methods to get Kya some notice, this includes the following...
Ads including images of Kya in various locations, with the release dates.
Magazine articles with either screenshots or a scene.
Giving away 100 snowboards, with Kya and various characters on it.
Creating video ads online.
Advertising banners online.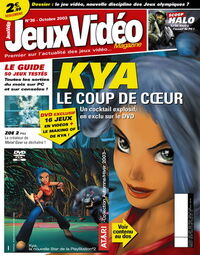 Magazine ArticlesEdit
One article found in some Video Game magazines, included Kya punching Wolfen , with the letters K-ick Y-our A-ss.
Another one has it as "More fun than belly button lint!".

The advertising crew created banners for the game to display on various websites.
| Kya dark lineage 1-7 E3 2002 trailer | Kya Dark Lineage Retro Commercial Trailer 2003 Atari |
| --- | --- |
| Kya Dark Lineage Retro Commercial Trailer 2003 Atari-0 | Kya Dark Lineage - Trailer - PS2 |
|}