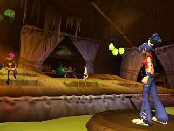 Shops only appear in
Nativ City
, and are unlocked once a certain amount of
Nativs
are
Exorcised
. The more Nativs that are exorcised, the more shops they are able to build.
When Kya is brought to Nativ City by Aton, there are only two shops already open, Amata's Shop and the Weapon Shop. The Nativ City Zoo, is also open.
The following is a list of shops in the game
BeginningEdit
Amata's Shop - A store that sells fruit, which enhances abilities.

First Floor, Near Elevator.

Weapon Shop - This shop contains the first Boomy, as well as sells an infinite amount of Trap Bombs.
Nativ City Zoo - Is a Zoo, where Kya can capture animals for Apou's zoo, and receive Nooties as a reward.

Second Floor, to the side.
Ad blocker interference detected!
Wikia is a free-to-use site that makes money from advertising. We have a modified experience for viewers using ad blockers

Wikia is not accessible if you've made further modifications. Remove the custom ad blocker rule(s) and the page will load as expected.