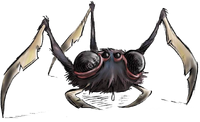 Spiders are an enemy that appears in Kya Dark Lineage, they crawl along the walls in swarms.
AppearanceEdit
Spiders have giant bug eyes, with tiny horns in between. They are a gray/purple/blue in color, with pincers on their face. They have four long legs, the tips of their feet have sharp claws.
Attacks & AbilitiesEdit
Wall Crawl - Spiders can damage Kya, if they bump into her with their sharp feet.
Kya can attack a spider with her Boomy when she is on the ground, and not Wall Climbing.
LocationsEdit
Ad blocker interference detected!
Wikia is a free-to-use site that makes money from advertising. We have a modified experience for viewers using ad blockers

Wikia is not accessible if you've made further modifications. Remove the custom ad blocker rule(s) and the page will load as expected.