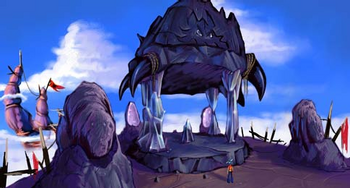 EnvironmentEdit
Being that it is a mountainous area, the Air Post is a rocky, but windy place. There are plenty of different types of monsters at the Air Post.
Kya goes there to go to the second cannon that will get her to the Forgotten Island, to help rescue Frank.
Rare AnimalEdit
Shell ElevatorsEdit
DestinationsEdit
The Air Post leads to the following areas.
The Air Post has the least amount of scenes in the game, out of all the locations.
Ad blocker interference detected!
Wikia is a free-to-use site that makes money from advertising. We have a modified experience for viewers using ad blockers

Wikia is not accessible if you've made further modifications. Remove the custom ad blocker rule(s) and the page will load as expected.