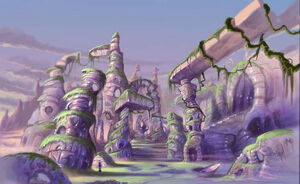 EnvironmentEdit
The Quarry, is a deep pitted area filled with Rock Minerals of all kind, especially Amber. The entrance to the quarry, has a poisonous gas.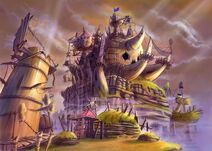 Kya goes to the Quarry to enter the Amber Quarry, this is so she can find an air cannon that will bring her to the Forgotten Island.
Other LocationsEdit
The Amber Quarry is a specific area in which Amber is mined.
Rare AnimalEdit
There is one rare animal in the Quarry, a white Micken.
Shell ElevatorsEdit
DestinationsEdit
The Quarry leads to the following areas.
The Quarry is the first place where Kya can ride a Royal Jamgut.
Ad blocker interference detected!
Wikia is a free-to-use site that makes money from advertising. We have a modified experience for viewers using ad blockers

Wikia is not accessible if you've made further modifications. Remove the custom ad blocker rule(s) and the page will load as expected.